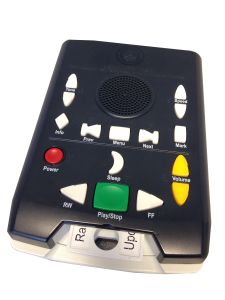 The Talking Book Program provides free recorded books, magazines, and playback equipment to approximately 15,000 eligible blind, visually impaired, physically disabled and reading disabled Ohio residents.
The Tuscarawas County Public Library System's Main Library is a sub-lending agency for the State Library of Ohio's Talking Books program. We distribute the machine to play the materials, and the talking books are circulated by the Ohio Library for the Blind and Physically Disabled in Cleveland.
For more information, or to sign up for the Talking Book Program, call the Main Library at (330) 364-4474 extension 101. A PDF version of the application is available to download below.
Library service for the blind and physically handicapped in the United States is delivered through a network of libraries and agencies coordinated by the Library of Congress National Library Service for the Blind and Physically Handicapped (NLS).
For more information:
Call: 1–800–686–1531 (Ohio only) or 1-614-644–6895
Ohio Library for the Blind and Physically Disabled
17121 Lake Shore Blvd.
Cleveland, OH. 44110-4006
1-800-362-1262
http://olbpd.cpl.org